Blog Section at StarTortoises.net
- p.1, tortoise themed gifts -
Looking for customizable tortoise gifts? Visit the online store.
Customizable gifts for tortoise lovers
Need a unique gift for a tortoise lover? A graduation present? Want something tortoise themed for yourself that can be easily customized by you? Maybe a personalized feeding plate for the tortoise who already has everything? :O)
Visit the online shop or scroll down to the worldwide store listing below.
Stars and more
Tortoise themed products are available in several species, including Indian / Sri Lankan Star tortoise (Geochelone elegans), Burmese Star tortoise (Geochelone platynota), Angulate tortoise (Chersina angulata), Greek tortoise (Testudo graeca), Golden Greek tortoise (Testudo graeca terrestris), Leopard tortoise (Stigmochelys pardalis), Radiated tortoise (Astrochelys radiata), Redfoot tortoise (Chelonoidis carbonaria) and Sulcata tortoise (Centrochelys sulcata).
Most of the tortoise products are easily personalized or customized during the online purchase process. Make a gift to fit any person or occasion. Perfect for the hard-to-buy gifts friends and family. :O)
US & international stores
All tortoise themed gifts can be purchased online at the Zazzle worldwide shops. See list below.
USA
Canada
Europe
Asia / Pacific
Latin America
Examples
...
...
...
...
...
...
...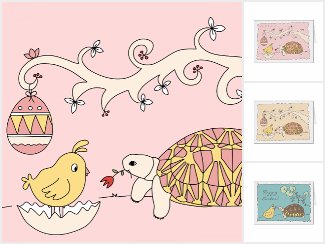 Easter
by
star gifts
...
...
...
...
...
Gift collections
Angulates / Star tortoises / Hermann's & Russians / Greeks / Other tortoises
Cartoon star tortoises / Birthday / Graduation / Valentine's Day
St Patrick's Day / Easter / Earth Day / Mother's Day
Father's Day / Halloween / Thanksgiving / Christmas
Back to blog index page